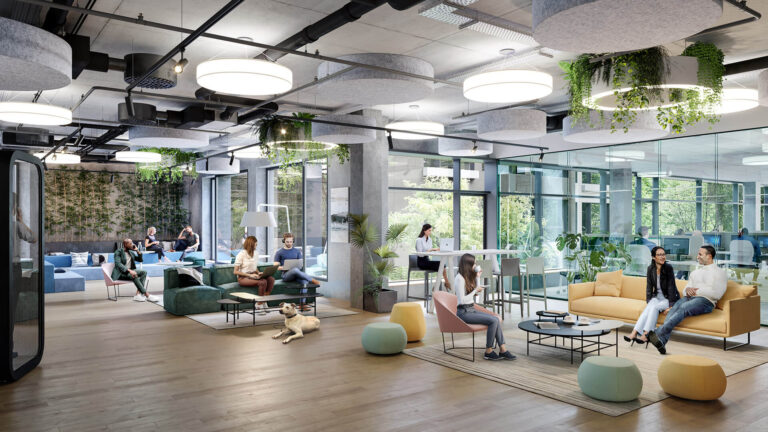 an office building of ESG values
Architecturally conceptualized around the values of greenery, community  and  flexibility,  ParkSide  Offices  is  Horizon Development's new office development that offers an inclusive, healthy,  and  enjoyable  work  environment  for  companies searching for an ESG-compliant, certified sustainable office building.
The 5+2 story property features 20,000 sqm leasable office and retail space, 260 underground parking spaces, as well as 35% greenery on site. The tranquil residential neighborhood is an ideal setting with sports facilities and a wide service range, as well as transportation links, dining, and cultural options.
offices
The variety of work settings offered within ParkSide Offices supplement traditional indoor office solutions and the work-from-home experience, helping companies set up their tailored and flexible hybrid model, and contributing to their employees' wellbeing, work-life-balance, and inspirational natural environment, while also attracting new generations of talent.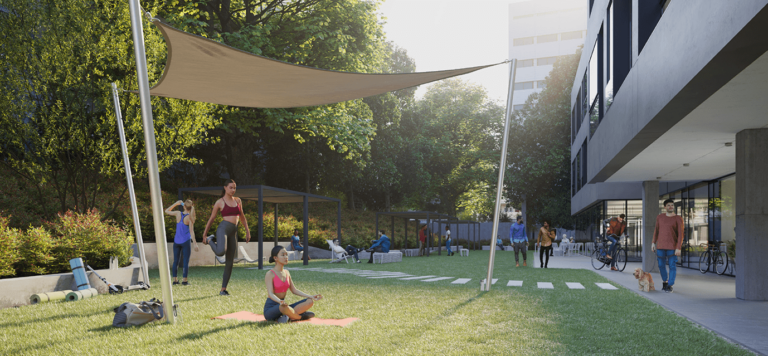 The outdoor areas at this clean-air location include an enlarged promenade, a front yard with water features and artwork, a park with an outdoor gym, secure private gardens, exclusive open-air workplaces with smart furniture, as well as rooftop terraces, all providing healthy workplace alternatives. The building exteriors and interiors are planned with people, and the natural and built environment in mind.
We adjusted the building height to reflect the volume of the adjacent residential buildings, and to smoothly fit into the existing urban fabric. Focusing on the connection to our homes and communities, we established a pet-friendly environment, and set up a baby room on the ground floor, accessible to both ParkSide Offices employees and families in the neighborhood. 
Once you enter ParkSide Offices, a bright and sunny lobby of 7-meter clear internal height welcomes you with a reception area, a café lounge, a connected terrace, and a cozy reading corner, all available to the general public.